Supporting Local Artisans In Nairobi Kenya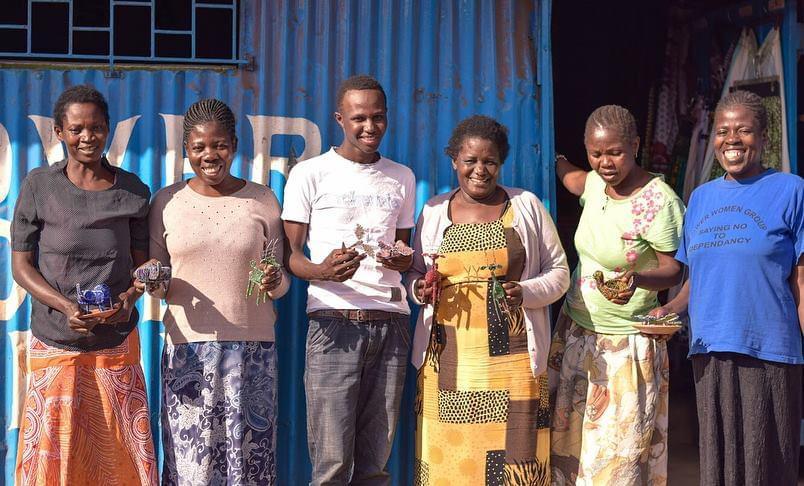 I remember many days growing up in Liberia; I used to run between zinc houses, playing carefree with kids in the neighborhood. 
My "yard friend," as the phrase goes in Liberia, lived with her grandmother. Toma was my BFF. Toma had lots of chores, so to go off running around with me, I had to help her get her work done. I learned to build a fire using firewood in Toma's grandmother's makeshift kitchen.  
My parents never shielded us from the hardships of life.  For them, to whom much is given, much is required, and that meant we had an open-door policy. 
Everyone in the community came knocking for assistance. It did not matter the time of the night. Women knowing my mother was a nurse, came with their sick children looking for help or a ride to the hospital.
This was my exciting childhood and my experiences growing up in Liberia will forever serve as a reminder of the dire needs of under-served communities.
So, it was not surprising at all, on a sunny day in Nairobi, to find myself standing in an ally, a familiar environment, marveling at the ingenuity of artisans.  In what I can only describe as organized chaos. 
An impressive system of multiple workshops crowded together; I watched artisans create, taking scrap metals, upcycle materials, bone pieces, and turning them into designs fit for royalties.  I took stock of how many women artisans owned stalls in this diverse business district.  Not many, but a few to conclude that progress is slow but consistent.  
My Public Health training also made me aware of the environmental and health risk factors associated with close compact communities.   Being aware of these concerns, meant that as a social entrepreneur, creating a business model that supports ethical, fair trade and a safe working environment is just as important as making a profit. 
Today over 3 million people are infected with Corona Virus globally and over 230K related deaths. This global pandemic has forced the entire world to shift, standstill, and pause for what feels like an eternity. With almost every day looking like yesterday and all of us trying to cope with the new normal of working, teaching, and learning, spending extra time with loved ones at home, I can't help but think about vulnerable communities. 
Most local artisans in Kenya live and create livelihood opportunities for their families in small compact spaces and cannot afford the luxury of social distancing.
In these communities, the risk of infectious diseases is high, and the need for continuous health education and mobilization is critical for survival.  These close-knit quarters are very vulnerable, and it is unimaginable to think about the spread of the Corona Virus in such communities.  
Another growing concern is the lock-down policy put in place by the Kenyan government to flatten the curve has also proven harmful for women, especially.  We are now seeing an increase in domestic violence.  With fewer opportunities available during the day to work and support their families, women are faced with no real escape or respite.
Countries globally are expected to experience significant economic ramifications from this pandemic. While most of governments are putting measures in place to assist businesses and corporations, there is also an urgent need to create social safety nets for vulnerable groups as well. 
As a socially responsible brand, INAIVU is committed to finding ways to engage and develop avenues to address the needs of marginalized communities.  We are passionate about lending our voice and using various platforms to bring awareness to social-economic issues.
In response to the COVID-19 pandemic, INAIVU, in partnership with a lifestyle brand, ILAVA, will provide a care package consisting of two months of food and household essentials to local artisans in Nairobi. 
During this time of global crisis, every little good deed goes a long way, and all we can do is provide support the best way we can. 
Look out for more information about our partnership with ILAVA. 
Join our tribe, and together we can make a difference with a flair of global sophistication.
---
72 Responses
Leave a comment